OPEN PACKED SPINAL MANIPULATION
Concussion

Mild traumatic brain injury caused by a direct or indirect force

Aftermath of metabolic cascades places increased energy demands on the brain cause secondary insult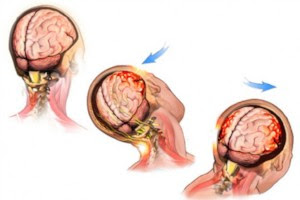 Physical Therapists can refine their cervical-based care into three broader components of treatment that address:
Cervical mobility dysfunctions
Neuromuscular control
Strengthening
Mark Lunbald PT, Int J Sports Phys Ther. 2017 Apr; 12(2): 286–296

Similar to the presentation of cervicogenic headaches, concussion patents will see multi segment dysfunction in the cervical spine in particular C1/C2. Dysfunction in this segment of the upper cervical spine will result in a variety of symptoms:   
Headaches
Radiating pain into the head/jaw
Limited cervical rotation
Heaviness in the head 
Given post concussion presentation, the treatment becomes very familiar to the use of HVLAT's (high velocity low amplitude thrust) for the treatment of cervicogenic headaches/whiplash. This conclusion would be correct however additional variables must be considered such as pre manipulation screening (as discussed in our other blogs as well as our spinal manipulation course), and phase of recover for the patient. 

As illustrated below we during the initial phases of recover rest is crucial. This rest period also requires minimal sensory input to the brain to recover quickly. The speed and forces used for HVLAT are roughly 80-100 ms at 118N with about 15 degrees of rotation (technique displayed in video below). Minimal stress to the cervical spine and head is generated so the application of HVLAT can and should be considered earlier in protection phase of recover. Pre-manipulation screening risk factors have been considered and ruled out, the patient will also require the necessary pain free range of motion to perform the technique to avoid adverse reactions that may result in short term "flare up" of current symptoms. 
C1-2 HVLAT TECHNIQUE EXPLAINED

ALL TECHNIQUES SHOULD ONLY BE PERFORMED BY THOSE WHO ARE ARE EDUCATED AND WHOSE LICENSED TO PERFORM HIGH VELOCITY LOW AMPLITUDE MANIPULATIONS